Description
3 Bedroom Apartment in Alcochete Setubal
This 3 Bedroom Apartment in Alcochete Setubal is also situated in a private condominium which also offers views of the Tejo Bay and Lisbon.
The apartment is also within walking distance to the town centre while just 20 minutes from Lisbon due to the Vasco da Gama bridge.
Completion Date October 2020
Apartment Details
3 Bedrooms
2 Bathrooms
Also Equipped kitchen
Elevator in the building
Also Floor to Ceiling Glass windows
Double glazing
Also Video access
Air conditioning
Also River Views
Closed condominium
Also Communal Gardens
3 Heated Salt water pools
Also Communal Media room
Communal Library
Also a Gym
Kids club
If you need to know how the currency market is please follow the link https://www.currencyindex.co.uk/Agent/oceankey or information on buying process in Portugal please see the following link https://www.oceankeyproperty.com/buying-a-property-in-portugal/
Alcochete
Alcochete is located just 20 minutes from Lisbon and also boasts the largest Fashion Outlet in Europe.
Visitors also have easy access to Lisbon by The Vasco da Gama Bridge which is the longest bridge in Europe which measures 10 miles long.
Alcochete was founded by the Moors and called "Alcaxete", meaning ovens, which is thought to be due to the large ovens for baking clay that existed here. Alcochete was captured by Dom Afonso Henriques, the first King of Portugal, in the 12th century.
In the 15th century, this region, with an abundance of species such as deer, wild boar and wolves, was much frequented by the nobility, who used to organise big hunting parties, staying here for long periods in their summer residences.
The salt-works are the area's major natural resource, and Alcochete was for a long time considered to be the most important centre of salt production in the country. Even today this activity is fundamental to the local economy.
As in almost the whole of the Ribatejo, Alcochete breeds horses and bulls, and the inhabitants enjoy the "festa brava" ( festival of daring), which reaches its high point in the "Festas do Barrete Verde e das Salinas" (Festivals of the Green Cap and the Salt-Works"), that take place every year in the second week of August, when the running of bulls and bullfights are the most characteristic spectacles.
Nearby is the Tagus Estuary Nature Reserve, where one can see the various birds that pass through here on their migrations, among which the flocks of flamingoes are particularly striking.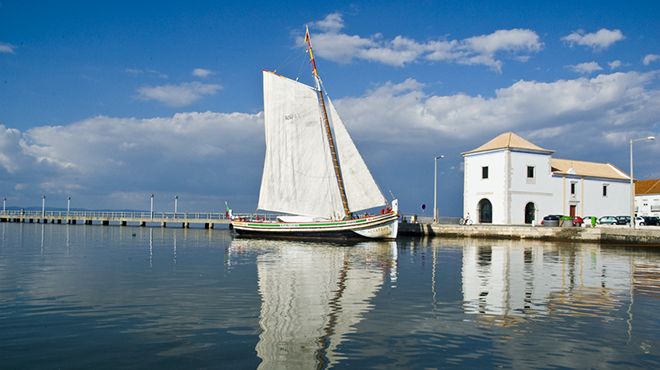 Freeport Fashion Outlet
Freeport outlet also offers excellent brand names and also offers up to 70% off all year round.
Tourists also have access to the VIP Shopping card, which allows an additional 10% off in selected stores.
Setubal
Setubal is close to the waterfront, which offers its visitors a colourful fishing harbour, urban park and the ferry terminal.
Within the charming historic centre is a maze of narrow alleys, plazas, and family-owned shops, along with Portugal's largest fish market.